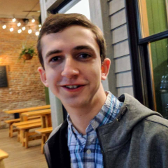 Contact Me
Email: me (a) thomasboxley.com
Places
Welcome
Hello, my name is Thomas Boxley. I'm 25 years old and I'm from the St. Louis area in the United States. Working with computers is a hobby of mine, as well as playing video games, reading books, and watching television programs. I really like beer; add me on my Untappd.
This site is meant to serve as a basic "About Me" page and a portal to my profiles on other websites.
I play the piano and guitar, and I'm constantly listening to music. I do most of my listening on a pair of Sennheiser HD650s.
You can check out my Steam profile and or me on Battle.net. As of lately I really enjoy tabletop gaming, particularly Pathfinder, and can be found on Roll20.
If you're interested, you can check out my blog here. I'm trying to maintain it and post frequently. Alternatively, I post my random thoughts on my Mastodon. You can see some of my old software on Launchpad.
PGP Key
Run gpg --keyserver keys.gnupg.net --recv-keys 9CB34D10731E1D75 or click here to import my key.
Computer Specs
Intrepid (Desktop)
CPU: Intel Core i7 6700K
RAM: 16 GB DDR4
OS: Manjaro Linux & Windows 10 Home
Graphics: Sapphire AMD RX 5700 XT Nitro +
Storage: 250 & 500 GB SSDs, 2 TB HDD
Voyager (Surface Pro 4)
CPU: Intel Core i5 6300U
RAM: 8 GB DDR4
OS: Windows 10 Pro
Storage: 256 GB SSD