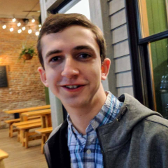 he / him
Say Hi
Email: me @‍ thomasboxley.com
IRC: thomasb / Libera.Chat
Discord: ThomasB#8893
Places
Welcome
Hello, and welcome to my website. I'm 27 years old and I'm from the St. Louis area in the United States. Working with computers is a hobby of mine, as well as playing video games, reading books, and watching television programs. I also enjoy using and supporting free and open source software.
This site is meant to serve as both a basic "About Me" page and a portal to my profiles on other websites.
I play the piano and guitar, and I'm constantly listening to music.
You can check out my Steam profile or add me on Battle.net. As of lately I really enjoy tabletop gaming, particularly Pathfinder, and can be found on Roll20.
If you're interested, you can check out my blog. I'm trying to maintain it and post frequently. Alternatively, I post my stray thoughts on my Mastodon. You can see some of my old software on Launchpad.
Please feel free to reach out to me via email or Discord if you'd like to chat. You can also find me on many IRC networks, including Libera Chat.
PGP Key
Run gpg --keyserver keys.gnupg.net --recv-keys 9CB34D10731E1D75 or click here for my key.
Computer Specs
Discovery (Desktop)
OS: OpenSUSE Tumbleweed & Windows 11
CPU: AMD Ryzen 7 5800X
RAM: 16 GB DDR4
Graphics: Sapphire AMD RX 5700 XT Nitro +
Kelvin (Dell XPS 13" Laptop)
OS: OpenSUSE Tumbleweed
CPU: Intel Core i7 1185G7
RAM: 16 GB DDR4